MARTIN READ was born in Birmingham, studying music at Colchester Institute and Goldsmiths College, London University, where he completed his M.Mus in composition. In 1988 he was admitted as a Fellow of Trinity College of Music, London and from 1996-2002 he was an spnm shortlisted composer.

Martin's music has been performed by numerous ensembles and choirs, and has been featured at many festivals - including Spitalfields, Southern Cathedrals, Corsham, Malvern, Farnham, Bath and the Huddersfield Contemporary Music Festival.

His music has also been performed throughout the USA and Europe - most recently The Christmas Life with words by Wendy Cope was broadcast in Norway

In May 1999, Martin was appointed composer to the Hampshire Music 2000 project, a position that required him to write for a large number of Hampshire's county, area and school ensembles, and which culminated in him conducting nearly 700 performers in his Mary Rose [words: Philip Sealey] at the Schools' Prom in The Royal Albert Hall.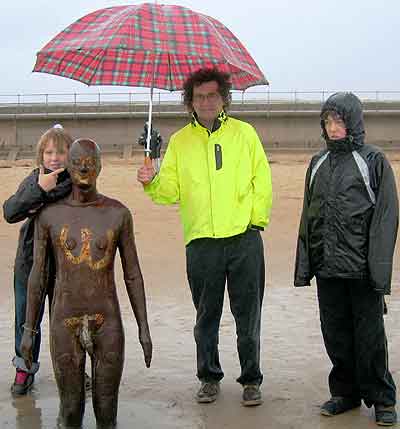 Martin with Simon and Matthew
continue
However, his music is not exclusively performed in Hampshire: The Angel of History was commissioned and premiered by Camarada at the Radio Café in Vienna, A song of bale and bitter sorrow was premièred at the Bath Festival and broadcast on Radio 3,dialogues and diatribes was commissioned and premiered at the Farnham Festival, whilst dance to the end of time - a chamber opera, written with the aid of an Investment in Individuals grant from Southern Arts, toured southern England after being premiered at the Corsham Festival in June 2002.

In 2007 Martin's Rainforest opera [again with libretto by Philip Sealey] – a commission from Opera Minima, was premièred and toured the East Midlands and Southern England. In his spare time Martin was choral director for a performance of David Bedford's opera The Rime of the Ancient Mariner in Winchester Cathedral, and also sat on the jury for the Vocal Prize of the Radio 3/BACS 'Composer of the Year' award, whilst most recently his Bicycle was premièred by the Alton College New Music Ensemble at the Farnham Festival. Current work includes Roundabout Basingstoke - a community opera for Basingstoke's adult music making ensembles to be performed during May 2010, and a children's opera for 2010's Winchester Festival.

During the summer of 2009 Rainforest was revived with a further eight performances in the East Midlands, Martin's music was the subject of a series of paintings by Catherine Barnes in an exhibition to complement the Chichester Festivities, and the Hampshire County Youth Band premiered Fanfare for David during the Winchester Festival.


Leisure pursuits include Italian food & wine, French food & wine, English pubs, cycling long distances in Europe with his family and watching football!!

His music is published by Banks, Editions a Coeur Joie, and Fand Music Press.

more info on Martins MySpace

Selected Works