Brian Dennis was born in Marple, Cheshire during 1941. His mother was a trained musician and returned to piano teaching and nursing after the death of his father. Brian was sent off to be educated at St. Edmund's School, Canterbury with holidays being spent in and around Liverpool.

He won an Associated Board Scholarship to the Royal College of Music in1961, where he spent four very happy years studying singing with Hervey Alan and composition with Peter Racine Fricker and John White. Marilyn, whom he later married, was in the same year as was Roger Smalley, a great friend,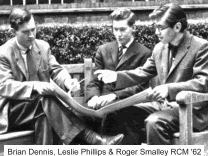 with whom he shared a flat as well as working together in the Composers Ensemble formed with John White and William York in order to play their own music and that of other contemporary composers.

It was during this period that Brian met Cornelius Cardew, whose music was introduced to the ensemble by pianist, John Tilbury.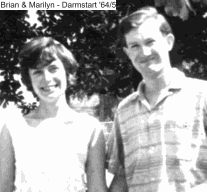 The Cologne Course for New Music followed on from college in 1965, studying with Stockhausen, Berio, Earle Brown and Cathy Berberian.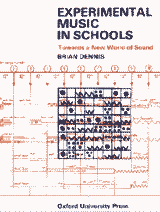 After a few years teaching he was appointed Lecturer in Contemporary Music Education at St. Mark and St. Jonh's College Chelsea, where he wrote his first book: Experimental Music in Schools (OUP) following the development of new methods for teaching Creative Music Education
continue


Howard Skempton was a near neighbour in Ealing and although Brian didn't take part in the contemporary music classes being organised at Morley College by Cardew, he was in touch with what was going on, writing an article on the Scratch Orchestra. for Musical Times (Jan 71) before becoming involved himself and participating in several events.

In 1971 he was appointed lecturer in Composition and Contemporary Music at Royal Holloway College, University of London. In his early years here he took some of his ideas forward with further publications and visits to lecture on behalf of the British Council - for example to Brazil - to make his methods better known.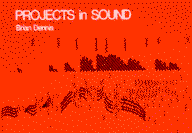 His second book for teachers: Projects in Sound (UE) was published in 1975, and is extensively used in the classroom both in Britain and abroad. In 1991 it was published in Spanish translation by Ricordi Americana S. A. E. C., primarily for use in Latin America.

Brian remained at Royal Holloway, working in this historic part of Surrey, a few minutes from Runnemede where Magna Carta was signed, living with his wife and two children.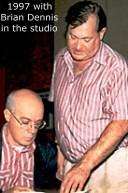 Recording for A Little Water Music with musicnow took place during 1995 and videos, photos and other background material was put together during the next eighteen months for release 1997.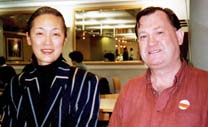 With Dian Chen at Bush House after being interviewed for Chinese section World Service broadcast on his music, 1997